NOTE: SHOW ENTRIES HAVE CLOSED.
​ JUDGING SCHEDULE WILL BE SENT TO PARTICIPANTS AROUND APRIL 28, 2017 AND WILL BE POSTED HERE.

APRIL 25, IS CLOSING FOR THE SEMINAR, THE POST SHOW DINNER, AND CATALOG ORDERS
CLICK HERE TO ORDER
​Nippo Classic 2017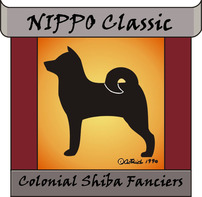 Purina Farms, Gray Summit, MO
May 5-6, 2017
Judge - Yoshihide Hashimoto
A note to US exhibitors from our judge:
"People ask me quite often, What makes Shiba attractive? I would say that Shibas have a special atmosphere of their own, and because of that, they never make me bored, or let me down. I'd like to share about it with people in US so that more people will love Shibas. The Shiba's attractiveness should not be changed, but maintained for good in your country."
Classic will be on the main show field (outdoors)
Classic Schedule
Friday May 5
1 pm Puppy Sweeps
6:30 pm (approx) educational seminar presented by our Nippo judge at the Wildwood Hotel
Classic Seminar : Our judge will addressDogs in daily life: How to manage and take care of dogs in their daily lives. Since he is a vet, he can discuss things from a medical point of view. Dogs in the exhibition ring:
How judges examine and evaluate dogs based on the standards and how handlers should handle dogs.
He is not going to focus on the standard or the elements of Kani, Ryosei, Soboku directly, but only as they apply to his topics or answers to questions. Hashimoto-san is very interested in making this seminar an interactive discussion about Nippo dogs. If you are wondering about something, chances are someone else had the same thoughts. So ASK!
.(If you are planning to attend the seminar and would like to pose a question to our Nippo judge, please email your topic and/or question to the
show coordinator.
)
AND NEW
-- Additional information will be provided on future Classics and assistance available through Colonial to help with Nippo forms and documents. Saturday May 6
8:00 am - Regular classes judging
6:30 pm (approx) Dinner and silent auction offsite, about 10 minutes from Purina. Questions? - Contact Show CoordinatorAlso at Purina Farms that weekend: Thursday, AKC Non-Sporting Group show, Friday-Sunday AKC All Breed shows. Super for AKC events is
Onofrio.
---
The Event : The Classic is an educational weekend and Nippo-style competition for dogs of the native Japanese breeds. Originally an event for Shiba Inu only, in 2010 we opened the event to other Japanese breeds. 2014 was our 20th Classic for Shibas.

The Judges: NIPPO graciously assigns a senior judge to officiate and educate our attendees. He is assisted by an AKC judge, selected by the Colonial Shiba Club, who is prospective, permit, or approved for one or more of the breeds competing. Our Nippo judge also conducts a educational seminar on each of the breeds competing. This seminar is valuable for those who breed and evaluate Japanese dogs. It's also equally important for those judges in AKC and other event-giving organizations who want to get a better understanding of the critical points in judging the native Japanese breeds.

The Club: The Colonial Shiba Club, Inc. is a non-profit organization dedicated to the preservation of the true Japanese Shiba Inu through education and presentation of a yearly Nippo-style event. The Club is committed to educating those who honor and respect the Japanese breeds and their history and to preserving the Nippo standard through selective breeding of quality dogs.

We promote and adhere to the Nippo standard of excellence, which accepts only Red, Red Sesame and Black & Tan colors in the Shiba.

About NIPPO

NIPPO was established in 1928 by Dr. H. Saito to preserve the native dogs of Japan. The Shiba Inu and Akita-Ken were among the six original breeds. Since then, NIPPO has been the only governing organization for the Shiba Inu. Approximately 35,000 Shibas are registered annually in Japan, ranking the Shiba as the most popular native dog in Japan. NIPPO holds more than 100 local, regional and national shows.

The Nippo Grand National Show in November routinely draws an entry of approximately 800 Nippo dogs, who have won qualifying awards in order to compete in the yearly event.